I noticed a new NetworkManager/wpa_supplicant/mobile-broadband-provider-info update is now in Fedora 11 updates-testing.
This update includes the mobile broadband configuration assistant and the mobile broadband provider database which are based on the work Antti Kaijanmäki did in Summercode Finland 2008.
This how the first screen of the assistant looks like. I actually tested the assistant on my laptop with my Nokia E71 and it worked well.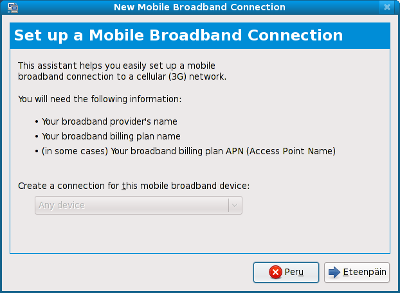 I don't want to start a distribution war here, but for me personally this was probably the only piece of open source technology that I find useful and Ubuntu had but Fedora didn't. I'm glad Fedora now has it as well 🙂
Thanks Antti, Dan Williams and all of the other people who've been involved in the development of mbca and the provider database.
Edit: Here's Dan Williams' blog post on the mobile broadband assistant.