The Assembly Summer 2011 demo party / computer festival is happening this weekend in Helsinki, Finland. The Linux/FLOSS booth here is organized together by Finnish Linux User Group, Ubuntu Finland, MeeGo Network Finland and, of course, Fedora. I'm here representing Fedora as a Fedora Ambassador and handing out Fedora DVDs. Here are a couple of pictures of the booth.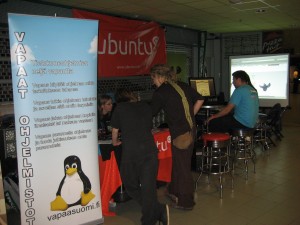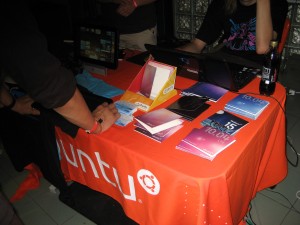 The booth is mostly Ubuntu-coloured because most of the people here are members of Ubuntu Finland and Ubuntu in general has a large community in Finland. In addition to live CDs/DVDs, the MeeGo people also brought two tablets running MeeGo (I think they are both ExoPCs) and a few Nokia N950s. They are also handing out MeeGo t-shirts.
People seem to like the new multi-desktop, multi-architecture live DVDs that the European Ambassadors have produced. I think they are a great idea and worth the extra cost compared to the traditional live CDs.